About WireTough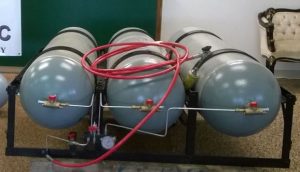 Wiretough Cylinders LLC is a Virginia based company manufacturing wire wrapped high pressure cylinders for the storage of a wide variety of gases, including compressed natural gas (CNG) on board a vehicle as fuel. The company additionally has developed cylinders in 200 to 875 Bar (3,000 to 13,000 psi) for storage of gases such as CNG, hydrogen, breathing air and helium.
WireTough delivers the highest impact strength in the class of light weight fiber reinforced cylinders. This breakthrough is the result of WireTough's innovative production technology, where lightweight steel liners are wrapped with a proprietary very high strength steel wire, sealed with a special epoxy and covered with a protective mesh.
Due to good thermal properties Wiretough Type II can hold 20-30% more CNG under fast fill than Type IV. It is 20% lighter than all steel Type I.
Subjected to the rigorous NGV-2 tests, WireTough tanks meet ANSI-NGV-2-2007 and US-DOT requirements. Our tank design meets ASME Section VIII Division 3 requirements.
The technology is under US patent applications and is now being expanded to 13,000 psi (875 Bar) tanks for storage of hydrogen for Fuel Cell vehicles.
The company has recently received a funding from US Department of Energy to develop 13,000 psi (875 Bar) hydrogen storage vessel for the Fuel Cell industry.
Advantages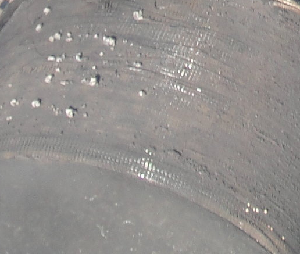 The extra weight compared to Carbon-fiber structure is associated with significant merit to the cylinder. While all types meet the DOT and NGV-2 minimum requirements, there is a distinctive difference between the designs.
When safety is the most important element of the structure, steel is used.
WireTough Cylinders' structural integrity is independent of epoxy. It continues to provide properties well above 160C (320F) when most fiber-epoxy composites lose usable strength. For over four minutes after the Bonfire test where surface temperatures exceeded 500C (1,000F), WireTough's cylinder remained intact and tight.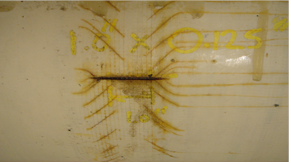 Powertech Laboratories conducted a special test of WireTough Cylinders outside the usual DOT and NGV-2 requirements. A 2.54cm x 0.32cm cut was made along the length of the cylinder. It was cycled in the 0-125% of use pressure range for 3,000 cycles with intermediate exposure to salt water. The cylinder did not fail and no long range migration of salt water was noticed.
Current Products:
WireTough provides a wide range of pressure vessels using its patented wire wrapped technology, including:
ASME 4,500 psi 200 liter CNG Ground Storage tanks
ASME 4,500 psi 200 liter Hydrogen Ground Storage tanks
NGV and DOT Approved tanks for Storage of CNG on vehicles from forklifts to semi-trucks
Storage of nitrogen, argon, breathing air and other non-corrosive gases
Research and Development:
In September of 2014, the US Department of Energy (DOE) awarded ten grants intended to accelerate the commercialization of hydrogen as a vehicle fuel by reducing the costs of producing and delivering it. Two of those grants were for the purpose of developing low cost storage solutions for hydrogen. WireTough HYPERLINK "https://wiretough.com/News.html" is the primary grantee of a $2 million grant for the purpose of developing a low cost jumbo (30 feet long) tanks for the ground storage of hydrogen as a vehicle fuel. The DOE grant requires that these tanks hold a pressure of 12,700 psi. Dr. Amit Prakash of WireTough is the Principal Investigator on this grant. A second $2 million grant was awarded to Oak Ridge National Laboratories (ORNL) which proposed an alternative design but incorporated WireTough technology. WireTough is acting as a subcontractor to ORNL on this grant. WireTough has already tested a prototype of its hydrogen cylinder and have exceeded the grant requirements.
Click here to download an animation showing the  HYPERLINK "https://wiretough.com/images/CylinderCutaway.avi"construciton HYPERLINK "https://wiretough.com/images/CylinderCutaway.avi" of our tanks.
Products Under Development:
ASME 13,000 psi Ground Storage for Hydrogen
Transport of Nitrogen, Helium, Argon, Breathing Air and other gases
WireTough presents new packages for weight, space, and cost optimization.
Our History
2003
WireTough began as Polywire Tough Composites, Ltd., established in 2003 by Ohio based scientists. With NASA R&D funding and university collaboration, key technologies were developed, including a damage tolerant composite for lightweight field armor application.
2010
WireTough Cylinders LLC. was officially incorporated in 2010.
2011
Wiretough Cylinders set up shop in Bristol, VA-Washington County Industrial Park.
2014
WireTough Cylinders LLC. of Bristol, Virginia, Awarded $2 Million Dollar U. S. Department of Energy Grant.
2015
WireTough Cylinders, LLC of Bristol, VA, Awarded $2 million grant from Virginia Tobacco Indemnification Commission
2016
WireTough Cylinders, LLC, qualifies for certification of its CNG ground storage tanks by the American Society of Mechanical Engineers (ASME) under Section VIII, Division 3.